Regular price
$1,227.99 USD
Regular price
Sale price
$1,227.99 USD
Unit price
per
Sale
Sold out
The ATD Platinum TwinDrag® is the Flagship series of the Accurate line. Designed with Accurate's patented TwinDrag® feature to deliver smooth, powerful drags, the larger ATD models put out in excess of 100 pounds of drag for targeting giant fish. These reels have been internally designed to handle high drag loads by applying an even amount of pressure on both sides of the reel with two synced dogs to provide the ultimate stopping power. The ATD offers a smooth, even drag that is consistent through the fight with little to no start up inertia, alleviating the possibility of high drag spikes when line comes off the reel. If you are looking to harness the ultimate stopping power for big game fishing, the ATD is the finest reel on the market of its kind.
| | | | | | |
| --- | --- | --- | --- | --- | --- |
| Model | Weight(oz) | Gear Ratio | Braid Capacity | Inches Per Crank | Max Drag |
| ATD-12T | 42 | 5.1:1/2.31:1 | 400yds/80lb | 42"/19" | 30+ |
| ATD-30T | 47 | 4.1:1/1.71:1 | 500yds/130lb | 37"/16" | 40+ |
| ATD-30 | 47 | 4.1:1/1.71:1 | 500yds/130lb | 37"/16" | 40+ |
| ATD-50T | 58 | 3.31:1/1.21:1 | 600yds/130lb | 36"/13" | 50+ |
| ATD-50 | 58 | 3.31:1/1.21:1 | 600yds/130lb | 36"/13" | 50+ |
| ATD-50W | 60 | 3.31:1/1.21:1 | 750yds/130lb | 36"/13" | 50+ |
| ATD-80 | 135 | 2.21:1/1.01:1 | 900yds/200lb | 33"/15" | 80+ |
| ATD-80W | 147 | 2.21:1/1.01:1 | 1100yds/200lb | 33"/15" | 80+ |
| ATD-130 | 192 | 2.21:1/1.01:1 | 2000yds/200lb | 39"/18" | 80+ |
Please note before ordering: The following models are built to order and can take up to 4-6 weeks before shipping.  ATD-130L, ATD-30L, ATD-50L, ATD-50WL, ATD-80WL, ATD-50TL, ATD-30TL
View full details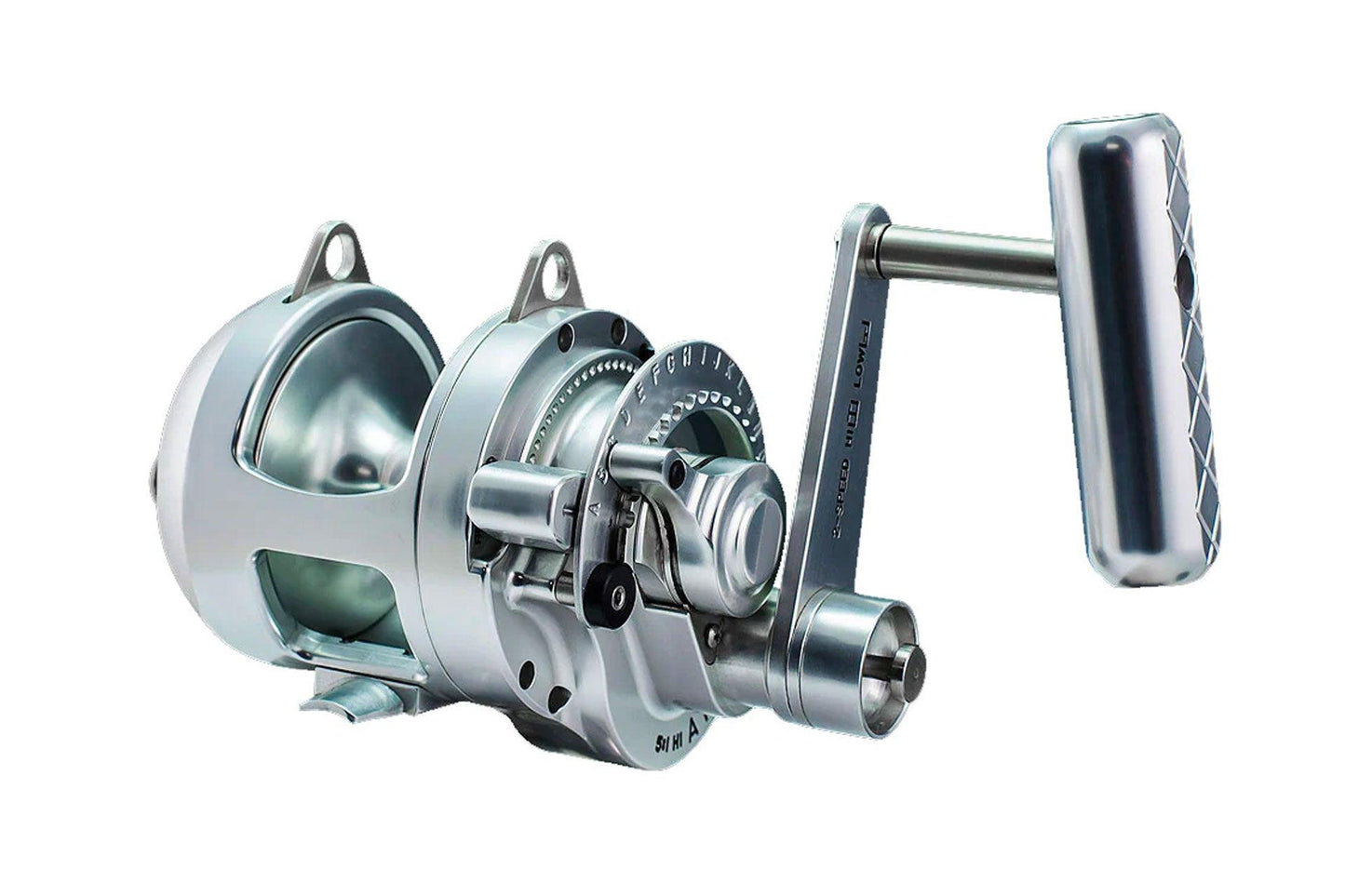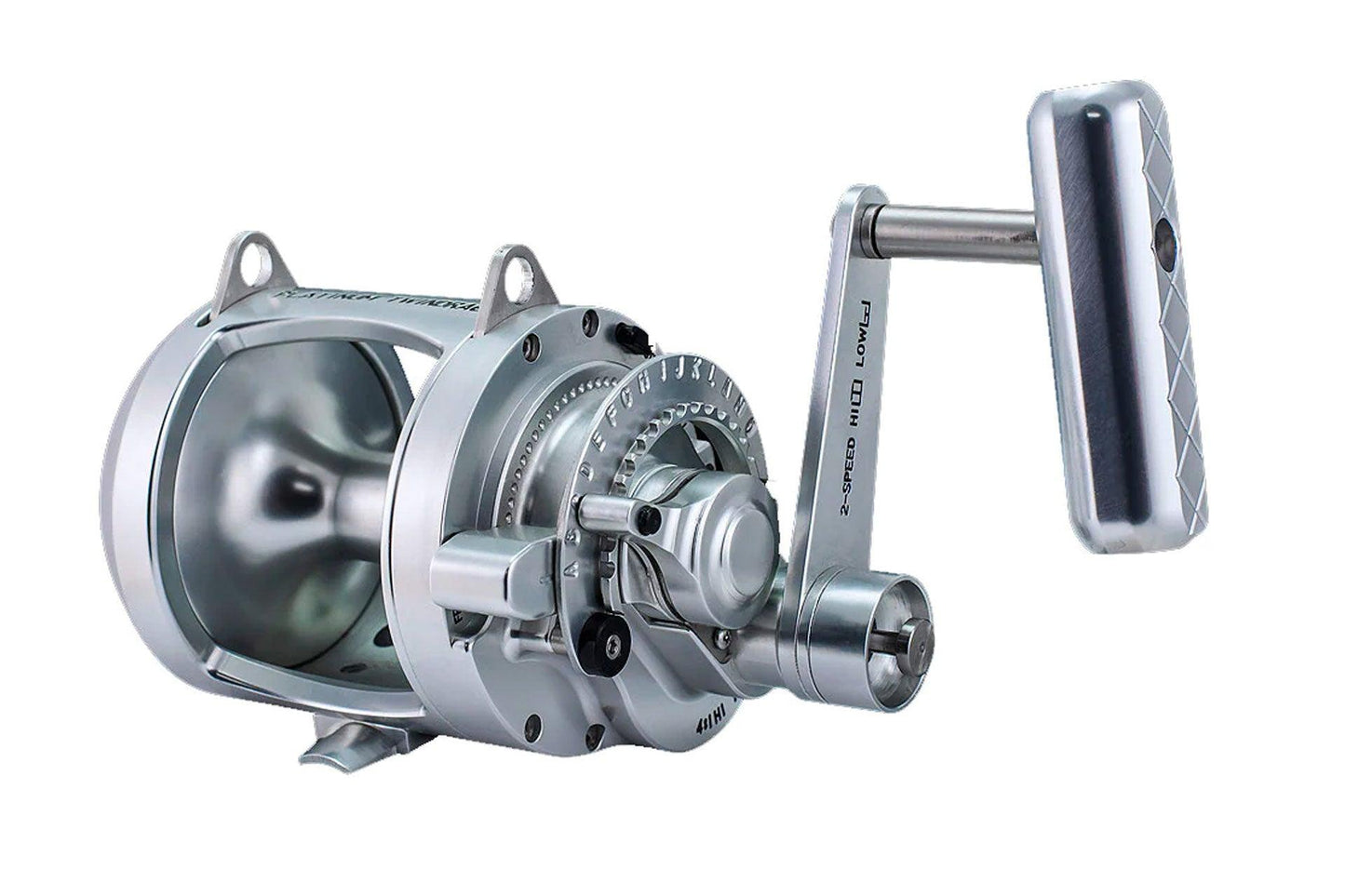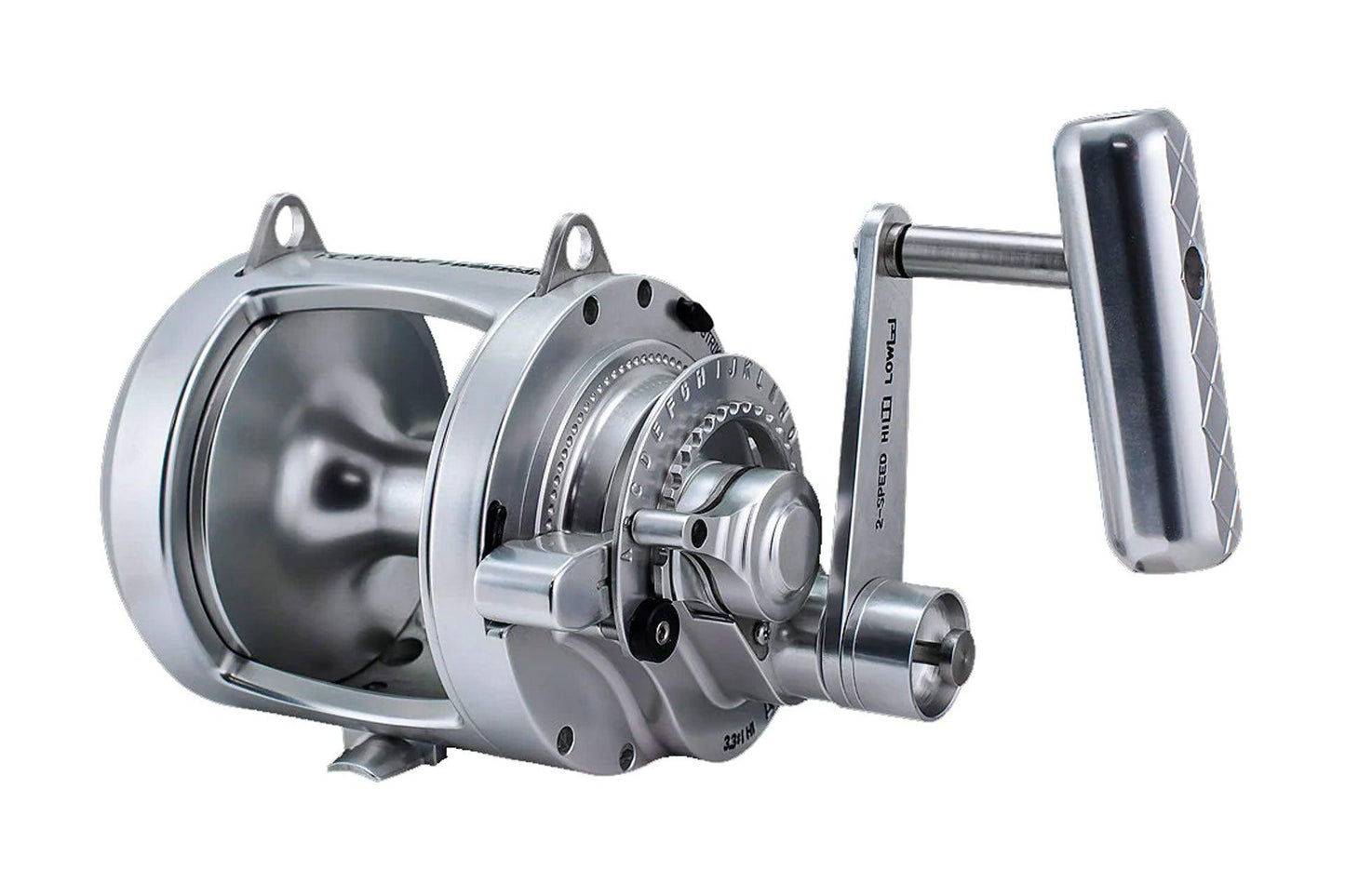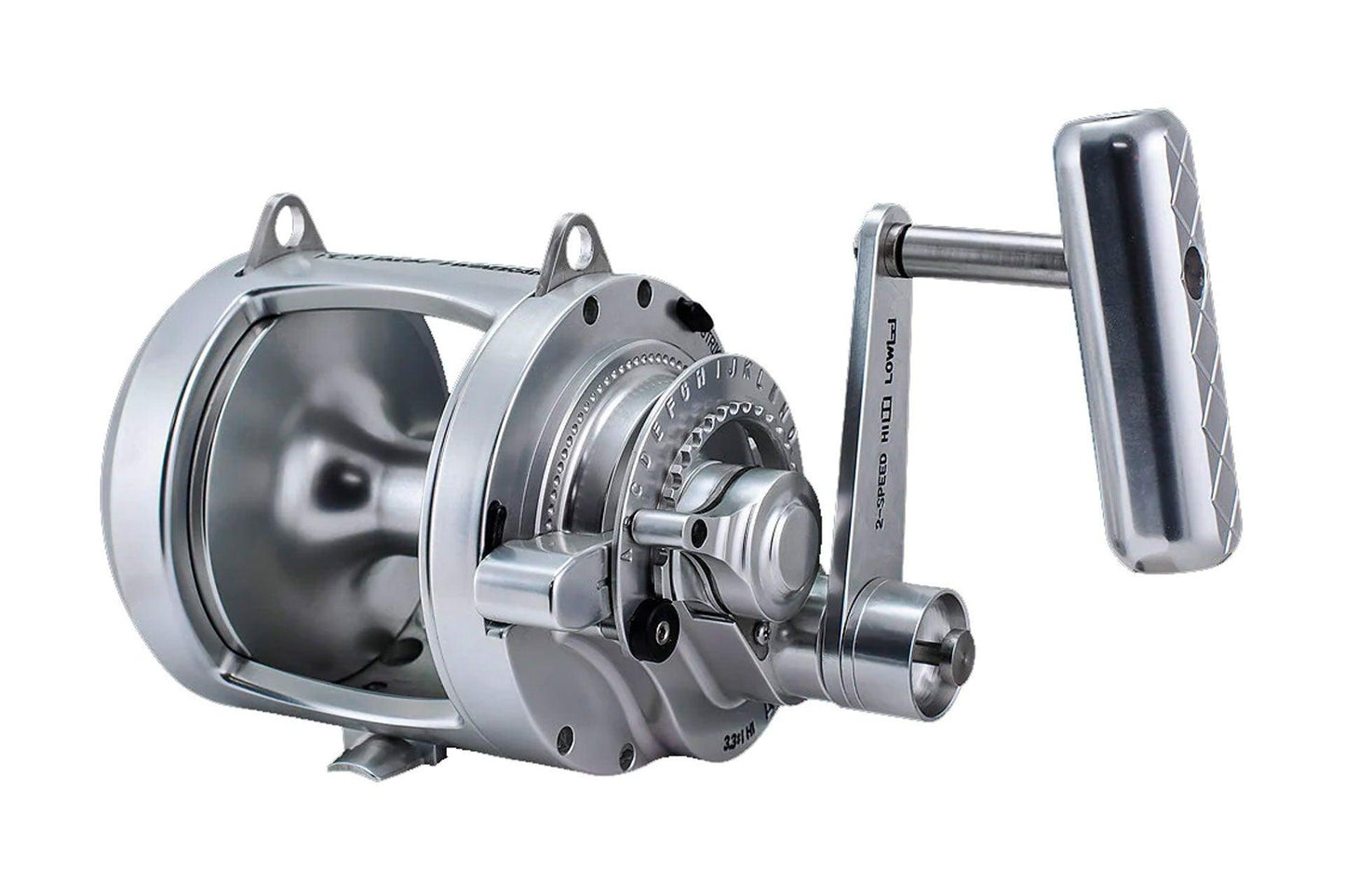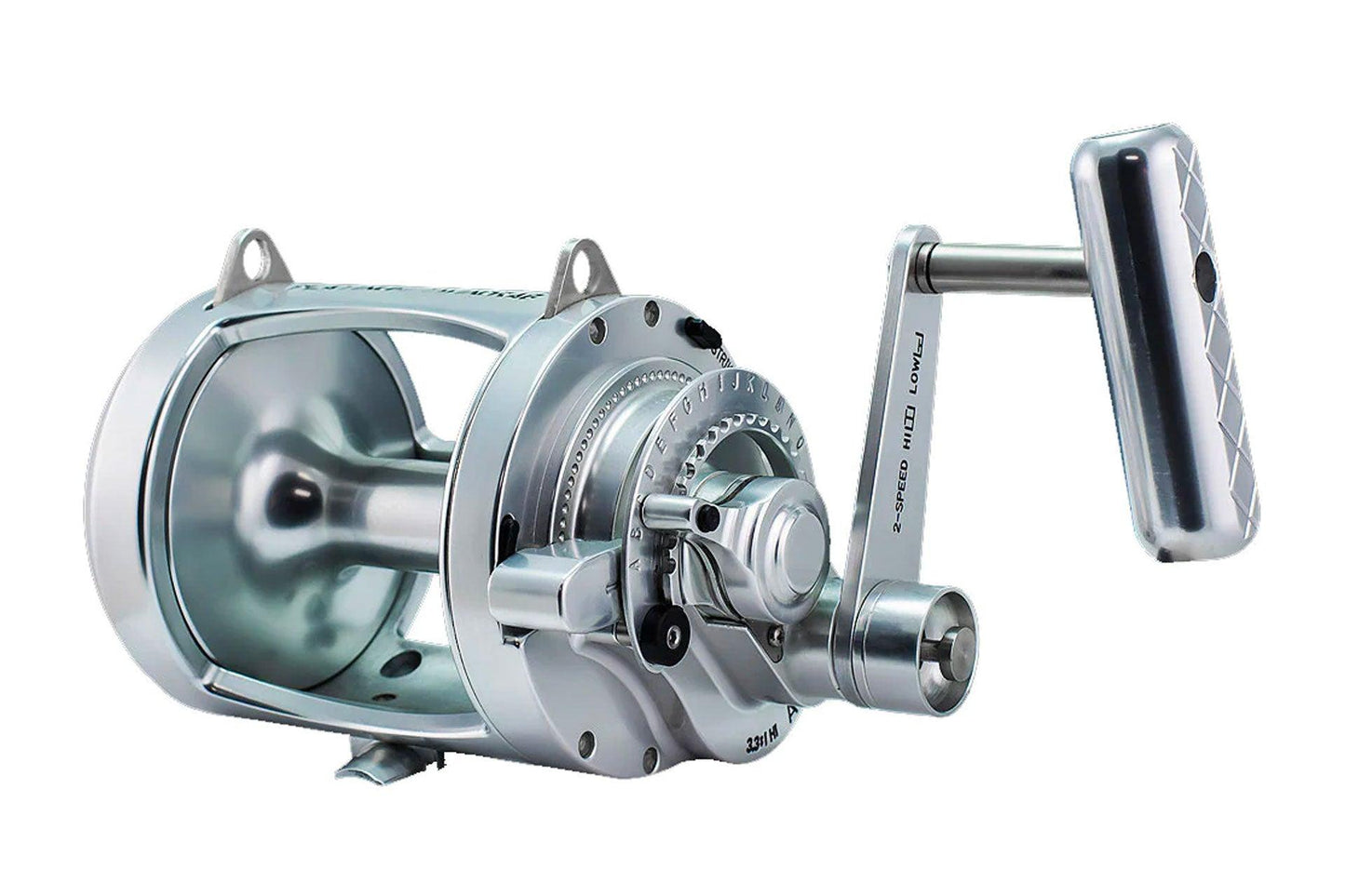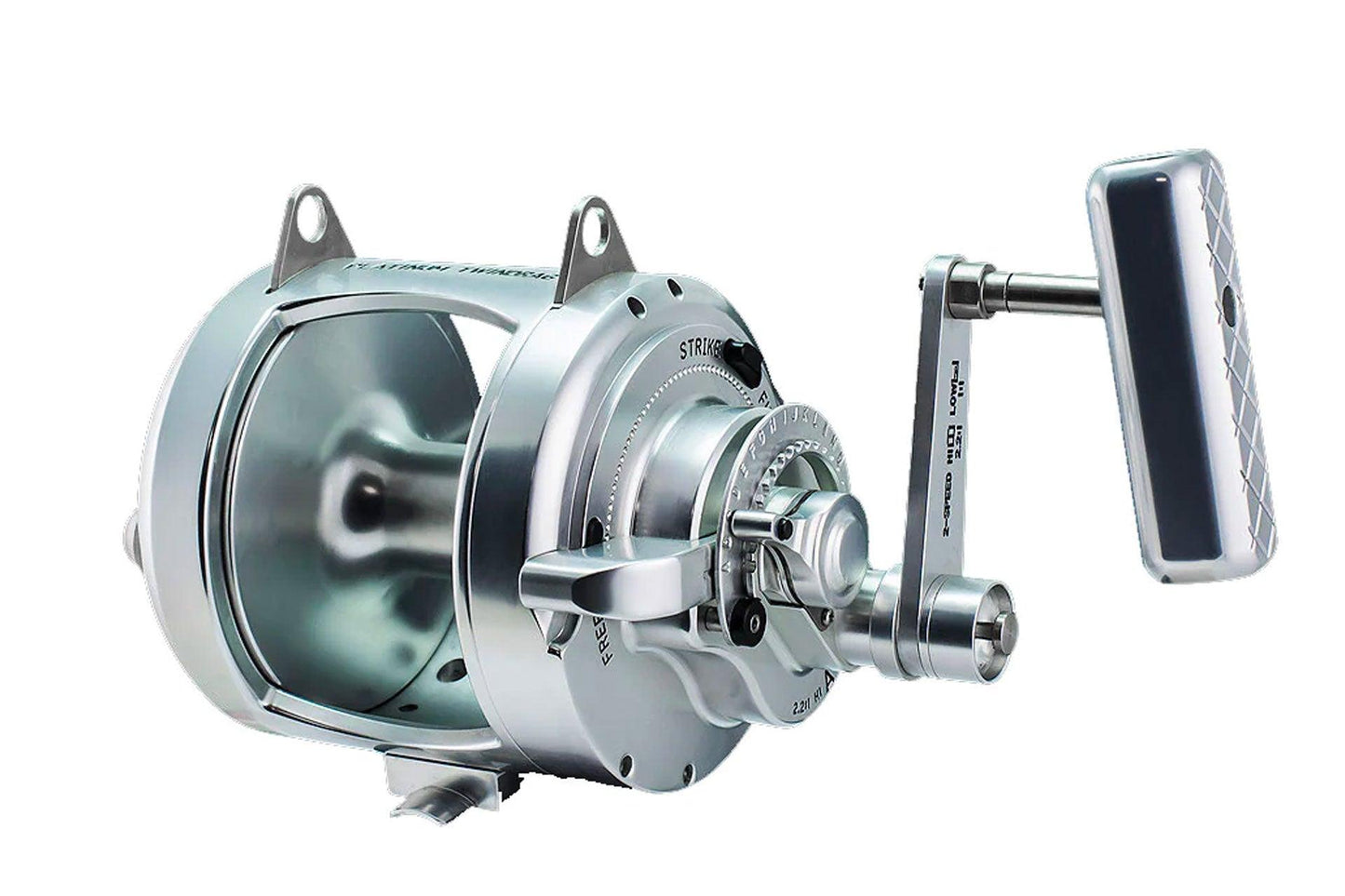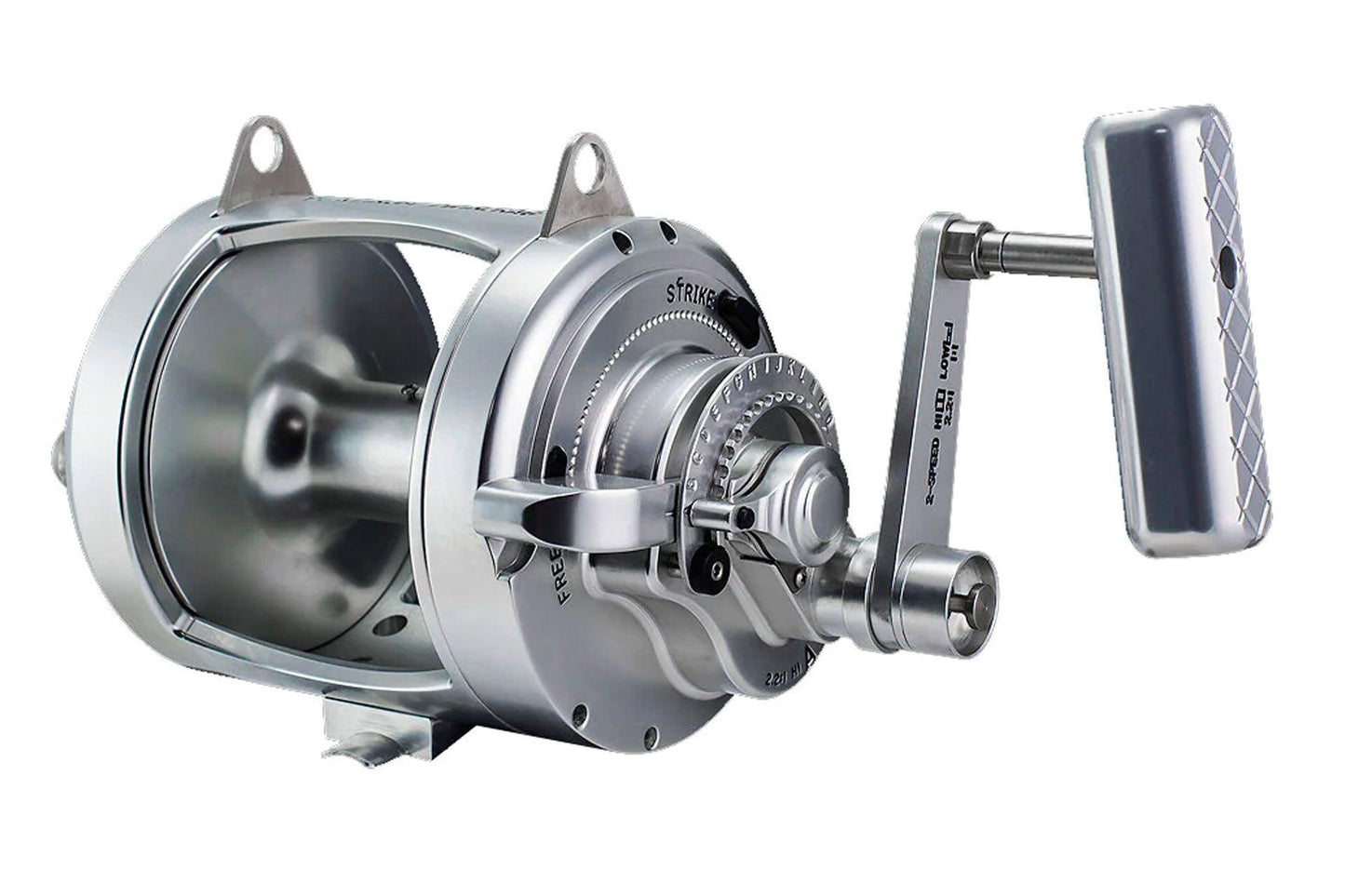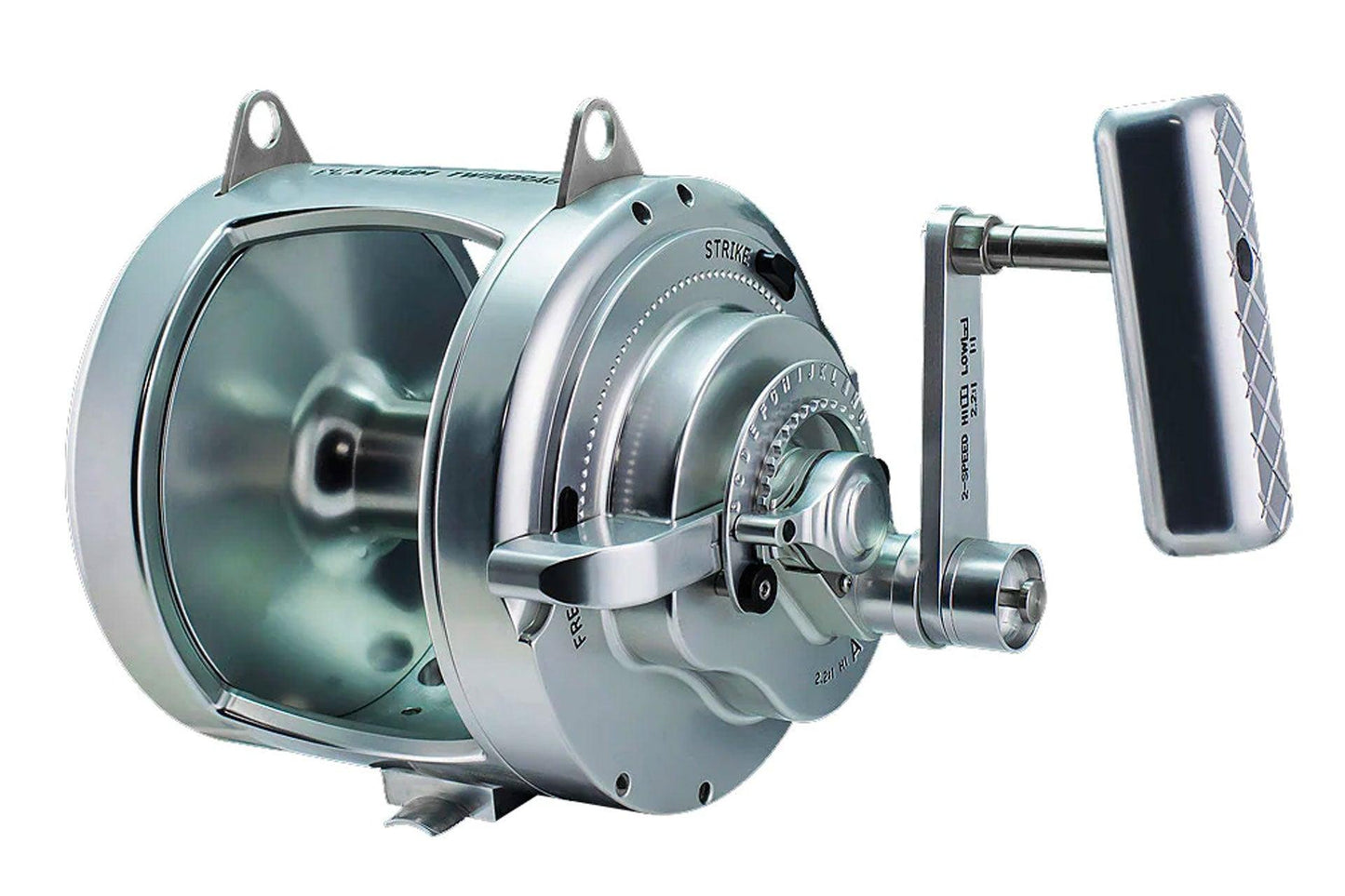 Patented TwinDrag™ System
Seven Class 5 ABEC stainless steel bearings
Greased AccuDrag system
Stainless steel gears
Two Stainless Steel Anti Reverse Dogs for Ultimate Stopping Power
Two year AccuCare Reel Service
Heat treated pinion gears
Larger, stronger gear shaft for increased torque
Patented DirecShift mechanism
Proudly designed, manufactured and assembled in the USA
US Patents 6,805,313 │ 6,505,787
Note: T=Topless, W=Wide in model numbers
Tame The Beast
The ATD reel series is the cornerstone of Accurate fishing products, the first TwinDrag® reel design in the world. They were developed with the San Diego Long Range fleet in mind, to meet the needs of fishermen in the most demanding conditions. Proven through years of fishing big Yellowfin tuna, Giant Bluefin tuna, and the largest Billfish, these reels have become staple components of Big game anglers Worldwide.
ATD80W
Consistently catch tag and releasing the biggest baddest predator fish on the planet with the baddest reels on the planet ATD 80W 🦈💪🇺🇸
ATD Platinum Twin Drag Reels
I was doubtful of these reels when they were first introduced. I fished an ATD 50W for the first time on one of the San Diego Longrange trips that had 50 plus of this product line aboard for anyone to try out. I borrowed one, and quickly got hooked up to a 170# Yellowfin Tuna. To my complete surprise, I handled this fish far easier than with my own personal gear (from another well known manufacturer). What truly amazed me was when the Captain walked over and advised me to but the reel in low-gear. I honestly thought that it was already in that position!!!
Pushing that button into low gear was simply mind boggling. The power and ease on the retrieve was unbelievable. From that trip - now many years ago, I've fished nothing but Accurates. Spend your money once in this game, fish Accurate.
ATD 30
This reel is awesome. Mega stopping power light weight for such a big reel, and very smooth.
ATD 50W
Landed a Pacific Bluefin hooked with a flat-fall, 160 lbs, in under ten minutes with this reel. Great ergonomics. Unbelievable power. I "need" a couple more of these reels... Love that ATD 50w.
Love the ATD 30T and the 12T too.
ATD-30T vs Gulf Grouper
Had my ATD-30T ready for the big blue fin this year and turns out that setup is perfect for large gulf grouper as well. Very easy to control the reel as the line goes out and especially when you are tugging the big fish in. Very smooth! You don't have to look at the reel as you wind it in as it is very much a part of your feel when you reel big fish in. Lot's of drag and cranking power and thank God it is easy to switch out of high and lows gears for these long duration fights. I will definitely be getting another one (or two) for my upcoming long range trips over the next couple of years. The grouper in the picture was only 111lbs (ha) but pulling these things out of rocks is really a tug of war!