The Right Reel for the Job.
Fishing in the last ten to fifteen years has evolved by leaps and bounds from where it once was with big reels and monofilament line that was the go to set up. Todays tackle with the adoption of braided lines has taken what we perceived as a necessary outfit and made them obsolete. Smaller reels have been redesigned bringing their features like gears, TwinDrag®, 2-speed mechanism, cranking power, decreased weight, and with braided line capacities, the ability to fight big fish with smaller reels.
Here at Accurate we have a Tawk feature on our website and one of the common questions we frequently hear is what size reel is the right one for the job at hand. This blog will give you a basic idea of the right reel for your needs dependent on line capacity and drag. Remember the reel is basically the machine that puts out the drag necessary to slow the fish down as well as the line capacity to land fish. The right rod is primarily putting pressure on the fish(not you)and tiring him, bringing him to the boat.
Lets take a look at some of our more popular reels.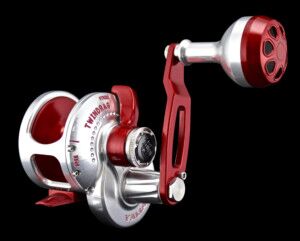 Accurate BV-300 – The 300 is the smallest of our TwinDrag® reels but this little power house changed the way people thought of smaller reels being cute but not that effective. This little reel puts out 23 lbs of drag and retrieves 38″ of line per crank with its 6.1 gear ratio, weighing in at 9.9 ounces, and holding 325 yds of 30 lb braid. The last couple years guys were scaling down around the country and fishing this little reel for school tuna, yellowtails, Stripers, Black fish, Rock cod, Dorado,and a variety of both inshore and offshore species. This reel coupled with the right rod 7′ or 7.5″ trigger stick or regular boat rod with a medium to medium heavy action was the go to fun set up. Fishing straight braid with a small trace leader of fluorocarbon was the rigging of choice with small compact knots for braid to leader like the Albright and the Pena knot.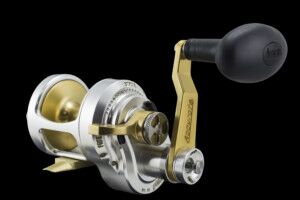 Accurate FX2-400 – This reel is an entry single drag, 2-speed reel that is a huge value for the price. The 400 size reel has been a staple for guys fishing for school tuna, Dorado, rockfish, small groupers, yellowtail, snappers, and whatever else your heart desires within reason. This reel puts out 22 lbs of drag and retrieves 38″ in high and 25″ in low speed per crank. The Fury FX2-400 weighs in at 19 ounces and has gear ratios of 6.1 High/3.1 Low. This reel for the price has proven to be a workhorse landing many tuna up to and just over 100 lbs here on the west coast plus really putting the wood to the local yellowtail, or amberjacks when the time arises. This little guy holds 325 yards of 50 lb braid and fits nicely on a 7′ or 8′ boat rod with a Medium heavy action. IF you are fishing on party boats it might be best to go with the 8′ rod. It would be entirely up to what fits your type of fishing best. The 400 size reels come in single or 2-speed models in narrow widths throughout our line of reels.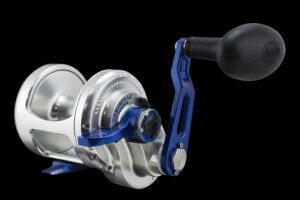 Accurate BX-500 – The Boss Extreme 500 is one of the original small reel, big fish model we introduced back in the day. There have been several revisions since the beginning but its been a very popular reel among anglers worldwide. This reel is a single speed model that comes in either a 4.1 or 6.1 gear ratio the later being more popular for line retrieval and the lower gear ratio for power per crank. The 500 size reel puts out 30 lbs of drag and retrieves 30″ with a 4.1 gear ratio and 45″ with a 6.1 gear ratio weighing in at 20 ounces. The BX-500 holds 475 yds of 50 lb or 350 yds of 65 lb braid. This reel has been a proven winner for live bait fishing, and casting jigs/ poppers as well as light trolling. Anglers have captured numerous Yellowfin tuna on the west coast up to 150 lbs. The BX-500 is awesome for tuna, yellowtail, white seabass, amberjack, sails, smaller marlin, rock fish, rooster fish, grouper, halibut, and a myriad of other species. The TwinDrag® mechanism gives this reel not only a more powerful drag but an extremely smooth drag making it really easy to enjoy the time on the rod knowing you have the power to finish the feat. The 500 size reels come in both single and 2-speed models and in narrow width depending on your specific fishing needs. The BX-500 coupled with a 7′ -8′ boat rod with a Medium-heavy action is the ticket. The Boss Extreme reels have been the main stay of TwinDrag® reels for the past 10 years plus.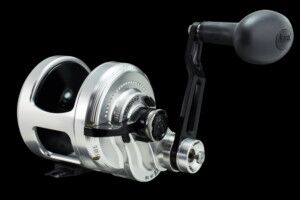 Accurate DX2-600N – The Dauntless 600N(Narrow) was very popular among the guys last couple years throwing surface iron or poppers after the west coast Bluefins found foaming along the coast. This reel is the top of the line conventional casting reel in our line up. The Dauntless DX2-600N offers 32 lbs of drag at full and retrieves 44″H/19″L with its 5.1:1 High and 2.2:1 Low gear ratios. This reel weighs in at 26 ounces and holds 425 yds of 65 lb or 350 yards of 80 lb braid. The DX2-600N features our TwinDrag® with a stainless steel ARB bearing plus two reverse dogs that are continuously in gear for the ultimate stopping power. This reel is one of the more popular reels for anglers looking to tackle with bigger fish on a smaller reel. The narrow design makes it very easy to control your casts with artificial lures like jigs and poppers. This reel casts like a dream with the sleeved spool and has Accurate Direcshift® feature which shifts it directly into low to get the party started on fish looking to dog down. The 600N size works perfect for jigging, surface iron, live bait fishing, and yo-yo fishing. It is responsible for tackling several big Bluefin tuna this last season between 100 to 200 lbs without blinking an eye. The DX2-600N coupled with a 7′ to 8′ heavy rod with a little lighter tip is the ticker. Longer rod works better on the party boats. Find the rod that fits your fishing needs. This reel is perfect for yellowtail, amberjack, big halibut, tuna, stripe marlin, bottom fish, and whatever you are looking to catch in your local waters up.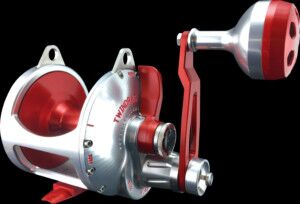 Accurate BV2-800 – The new Valiant BV2-800 has arrived with a bang. This reel was designed in the vein of super powerful but extremely light weight and it lived up to its expectations quickly. Less than a month ago it was tested on both a 319 lb and 424 lb Yellowfin tuna in the islands off Loreto and stood up to the test. This reel is the big brother of the BV series that have become popular the past couple years starting with the BV-300 listed above. The BV2-800 puts out 36 lbs of drag and is a 2-speed reel that retrieves 47″ per crank with the 5.1:1 High and 21″ per crank in the 2.2:1 low gear ratio. This reel holds 800 yards of 80 lb braid and weighs in at 25 ounces which for a reel this size is extremely light weight. Reel comes with lugs for those anglers that fish with a harness and blanks are available for those that do not use them. The BV2-800 is a great reel for fishing live bait for larger gamefish but also works incredibly well as a trolling reel with drag and a very healthy capacity of 80 lb line. The BV2-800 was designed with Bluewater gamefish in mind. It works great trolling for marlin, tuna, dorado, as well as fishing live baits for Bluefin – Yellowfin tuna, big groupers, and would ever hearty gamefish come your way. As for rods for the BV2-800 can be used on trolling rods with some of the newer actions for 60 – 100 lb braid in the 7′ to 7.5′ range for skipping baits or trolling lures.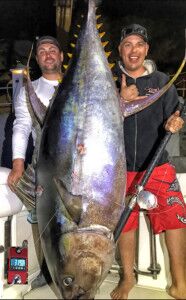 Many of the west coast anglers are using the reels for live bait fishing with longer 7′ – 7.5′ rail rods or 6.5′ to 7′ stand up rods for the harness. Actions for both types of rods are up to personal preferences but the rail rods are fast action tips with a slower action mid section and the same would be true with many of the stand up rods. Key to remember that the rod should be taking pressure off you and transferring it to the fish. A rod that bends is doing the transfer but the stiffer ones tend to bring the pressure back to you. The BV2-800 is available in a narrow version too with the same features and a line capacity of 600 yds of 80lb braid. Looking for a larger conventional sett up with power that is super comfortable to fish try the BV2-800.
With all the reels we have discussed in this blog some common features include they are all made of 6061 T6 aircraft aluminum designed for strength and are very corrosion resistant due to the anodize process. They all have 17-4 heat treated stainless steel gears and shaft, Accustop Calibrated drag lever, Sleeved spool, Patented TwinDrag® (except Fury), 2 year free service warranty, and most important, they are all manufactured here in America. If you have any questions or looking to check out the line please visit us at: accuratefishing.com
Till next time, hope all your time on the water is great.
Team Accurate